Back to home
(click here if you don't see any frames)
1.How it all started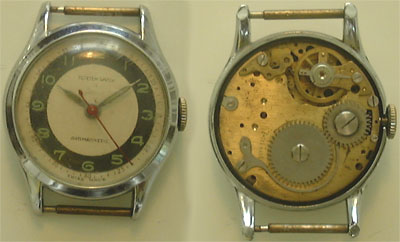 My first real good friend, that I bought 1958 for my own savings.
I had just begun 1st grade and was the only child at school having an own watch - I was VERY proud!
The watch is named Terten Watch which is quite unfamiliar to me and at first I mistook myself and thought it was an Atlantic Watch, see below.
However this is the real first watch and I found it lately while emptying my parent's attic. It has a very inexpensive movement of the pin lever type. The dial
reads "antimagnetic" and "Swiss made". The movement is also engraved with "Swiss made". All information on this movement and watch is highly appreciated.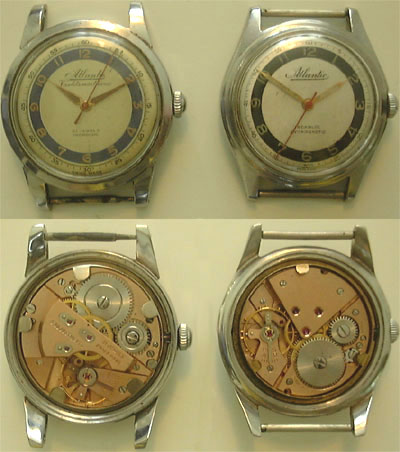 Here you can see two Atlantic watches. The watch to the right was the one that I thought was my first watch until
I found the Terten Watch as can be seen above. They look very similar. However the Atlantic watches have much more sophisticated movements.
The one to the left is named "Världsmästarur" and has 21 jewels. The movement has the inscription "3 adjustments" and "Swiss made". I have
no information on that caliber at all. I would be very happy for all information you can give to me.
The one to the right looks more like a 17 jewels movement and it has an "ETA 1100" inscription. I have not been able to found any information
on that caliber ether.

My second real good friend that I bought in mid 1970th and used for a very long period. Cal. 6139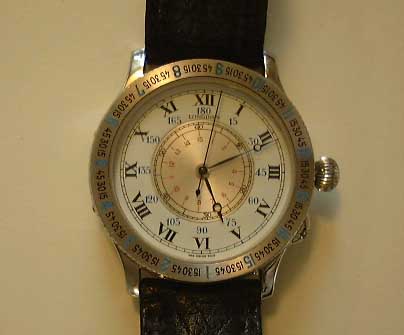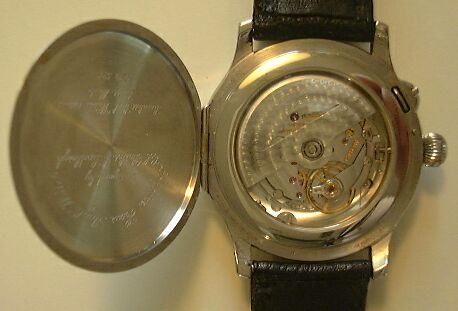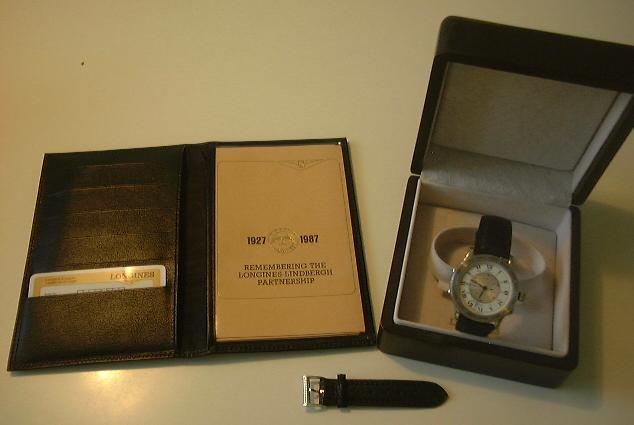 These pictures show my Longines Lindbergh watch that was my real first collectors item.
I bought it new 2000 but the production year was 1987 i.e. the first year the watch was reproduced as a 60th anniversary watch
of the 1927 years flight over the Atlantic. The watch is equipped with a Longines in-house caliber L 989.2 (25 jewels) witch later was replaces by the ETA 2892.
My interest in watches begun at an age of 2 and I have always been keen on watches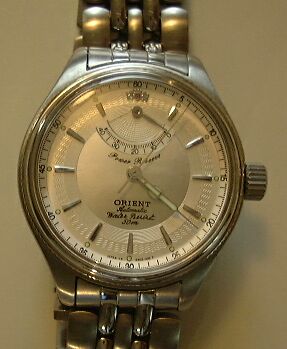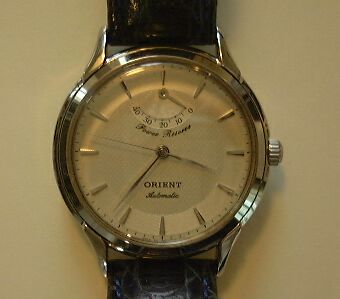 I learned about watches with power reserve and started to look for one to buy. They were tremendously expensive. Suddenly I found out
about the Orient watches. I bought one in Cannes France on the way home from a F1 race in Monaco (left). Coming home I found one in
my local watchmaker store - I bought that one too depending on the offer I couldn't resist $60 (right)!

When working in Russia I bought this nice mechanical alarm Poljot watch .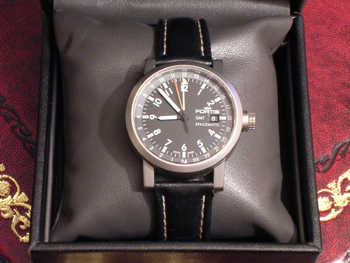 The nexet watch was a Fortis Spacematic GMT with caliber ETA 2893-2.
A bought it too keep track of my friend in LA ;)
2. My step into Horology and Watchmaking Back to home
After I bought my Longiness I started to change my interest into a more systematic hobby activity.
I started to buy more watches and also started to read more about the functionality of a watch movement.
My study led me to the TimeZone site where I found my right place on earth :) After a while I bought TZ Watch School Level 1 in watchmaking.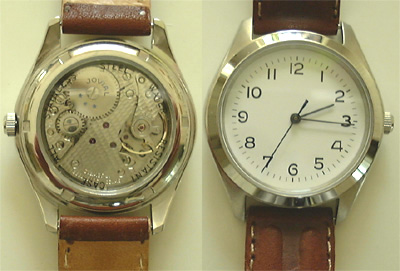 This picture shows the Watch School Level 1 watch witch I proudly have disassembled and assembled.
It was rather challenging but very satisfying to learn how to work with a movement.


Here you can see the proof that the FM97 has been completely disassembled!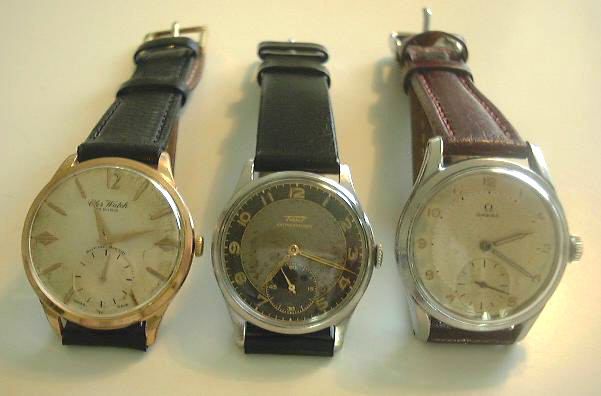 After the Level 1 was finished I started to work on these three watches.
All of them are disassembled and assembled and oiled witch was the next thing I learned.
I studied lots of literature and bought oils and oilers.
From left to right you can see a Cler Watch caliber Unitas 6340, a Tissot caliber 27, and an Omega caliber 265.
This Breitling Premier is going to be a real challenge to restore! Caliber Venus 150

In connection with this I fortunate "run into" a retired watchmaker who offered me to buy his old but
complete watchmakers workshop. So I did and below you can see my working bench.


Here you can see a close-up picture showing from the left to the right:
Two watch Compartmented Parts Trays, a Small Movement Holder (used for the Certina below), a Bergeon Screw Driver Set,
a Bergeon Four-Cup Metal Oil Stand, one Oiler, some Peg Wood with Rodico, two Oils (9010 and Moebius D-5 Microgliss ) and Moebius 8300 Grease,
a tray with basic tools (see below) and a Bergeon Dust Blower.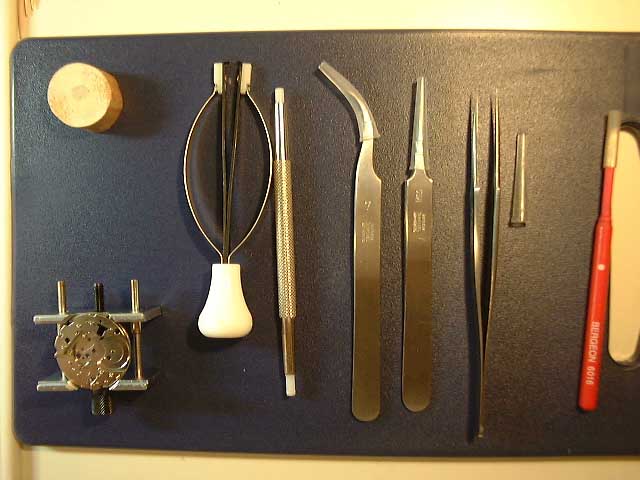 The basic tools: a standard Bergeon Movment Holder, Pith Wood, a Bergeon #6 Presto Hand Remover,
a Bergeon Hand Setting Tool, three different Tweezers, and a Bergeon 6016 Hand Remover

Among all things that a bought from the retired watchmaker ther was a watch cleaning machine witch was a real hit to me.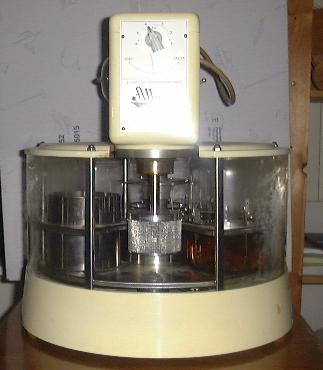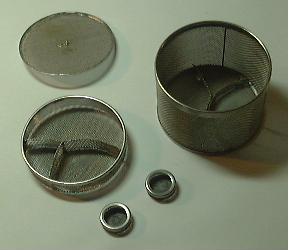 Above you can see to the left the cleaning machine and to the right the baskets that the parts are collected in when being cleaned.
4. My latest but probably not last purchase Back to home
When I worked with the Cler Watch caliber Unitas 6340 it was the first time I got in contact with Unitas movements.
I started to learn more about then and become fascinated with the pocket watch movements Unitas 6497/6498.
I started to look for clocks and found to my surprise that there were several watches equipped with those movements.
I soon became clear to me that I just had to have suck a watch. The choise became Glycine KMU 48 with the Unitas 6497.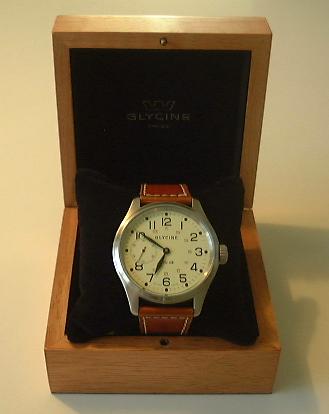 Above you can see the Glycine KMU 48 in its original box and below a comparison of sizes of two quite different watches!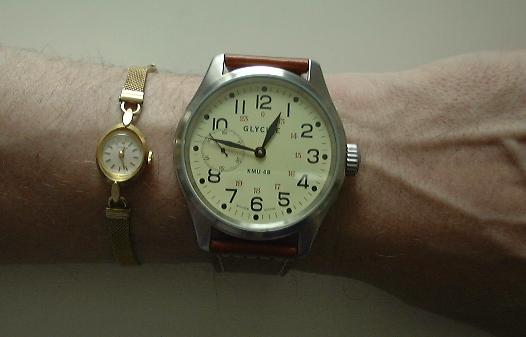 The little watch above is a 18k gold Certina 10 lignes movment caliber 13-20.
I have made a total renovation of the movment and it now runs very accurately.


Will this time piece be my next project?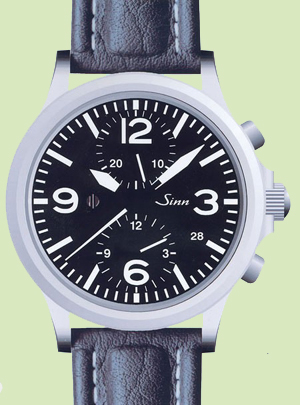 I would like to have a Valjoux 7750 in my collection and perhaps this case will carry it!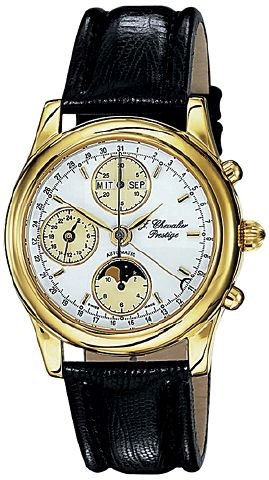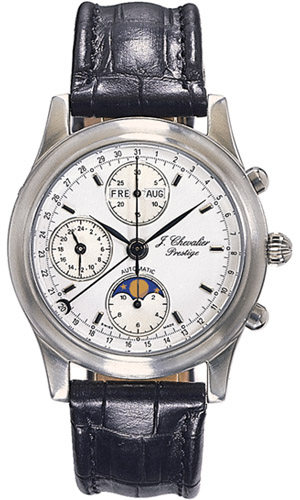 Or will it be one of those?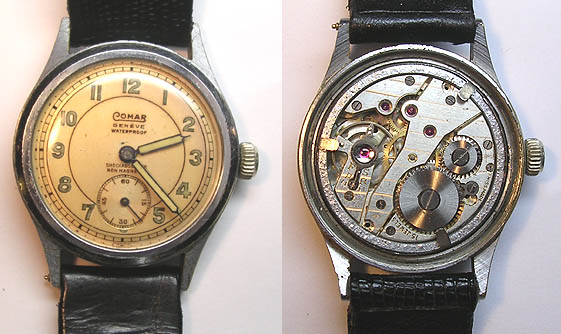 I also what to know more about this watch. I can read 811 under the balance. What caliber is it?
My latest watch! The Candino is a NOS with a Peseux 7040 movement.
Very inexpensive but at the same time a nice and interesting piece to my collection of vintage calibers.